Jeff Lowe found instant popularity around the world thanks to the hit TV show – Tiger King. Apart from the show, Jeff is most popular in Las Vegas for his lavish Zoo and a peculiar attraction to exotic animals including, Tigers.
Although housing and possessing exotic zoo animals might be illegal, Jeff finds himself focused on capitalizing his rising popularity and Tiger King's image using his exotic pets.
Jeff Lowe's Early Life
Jeff, from his childhood, surrounded himself with the big cats because of his grandfather, who ran the Robbins Brothers Circus. In the show Tiger King, Jeff talks more vividly about how he met Joe Exotic in 2015, trying to help him find ground during the tough financial times. He assisted Joe Exotic with funds to reestablish his zoo and, in the process, found a home for a couple of his cubs and tigers in it.
One of the most interesting parts about Jeff's life also shows how passionate he is for his animals and his personality when he arrested for housing exotic animals in Las Vegas. He lacked proper licensing and had to pay a $10, 000 fine to get out of the situation. This could also be one of the motivators why Jeff focused on having his Zoo.
How did Jeff get Joe's Zoo And The Bad Blood Between Them?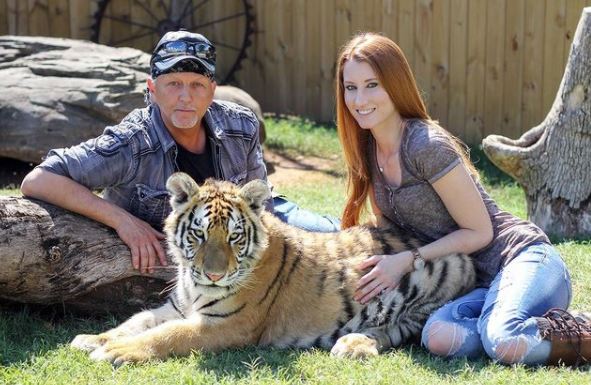 We all know about the rollercoaster life of Joe Exotic. Carole Baskin, the person responsible for Joe's nightmares, was the one who forced him to file for bankruptcy and lost $1 million in a lawsuit against her for copyright infringement. After the debacle, Joe had to lose the zoo, and Jeff along with his wife Lauren became the new owners of The Greater Wynnewood Exotic Animal Park.
Jeff went on to closed all doors for Joe when he became an informant for the federal government in the Baskin case. He further went on to assist in the arrest of Joe which ultimately cost their friendship.
You can learn more about Jeff from the Netflix documentary – Tiger King in episodes. The Tiger King and I, The Noble Thing To Do, Playing With Fire, Make America Exotic Again and Dethroned. Jeff is very popular in his community, and he, along with his wife, has found a home for their cats in what used to be Joe exotic's den.
Jeff Lowe's Net Worth
He has been a worker his entire life. From managing retail stores to Evel and Robbie Knievel themselves. He also has a strong family background. Considering all the factors including, continued work and the new zoo, it would not be wrong to predict Jeff's Worth to be anywhere between $5 million and $10 million. The rise in popularity from the Netflix Documentary and the money he would have made from the show is also one to consider. At 55 years of age, Jeff is probably one of the most popular and wealthy Zoo owners in the United States.