Calling back a number that's left you a missed call on your mobile phone probably seems like the most obvious thing to do. They must have tried to get hold of you for a reason, right? But redialling numbers you don't recognise is risky. 
There's a possibility that the number you call is being used by a scammer, and the missed call is the result of an automated call system known as a robocall. If this is the case, you could end up being charged considerable amounts for ringing the number. This is what's known as a missed call scam.
In this article, we'll explain all you need to know about missed call scams, from what they are to how to spot them and deal with them. We'll also walk you through the steps you can take to protect yourself from scammers trying to contact you through your phone. So, let's take a look!
What is a missed call scam?
A missed call scam is a type of phone scam used by criminals to defraud unsuspecting individuals out of money. It works on the basis that people will often redial a number that comes up as a missed call on their phone. But by doing so, there's a risk that they'll be charged a hefty fee.
Scammers use an automated system to dial telephone numbers — known as robocalls. The call will usually last less than a second, which isn't enough time for the receiver to pick up, but enough for it to come up as a missed call. If the receiver then returns the call, they're likely to be charged for calling a premium number. Even a short call to a premium rate number can leave a considerable hole in your pocket. For this reason, you should always be cautious when calling back numbers you don't recognise.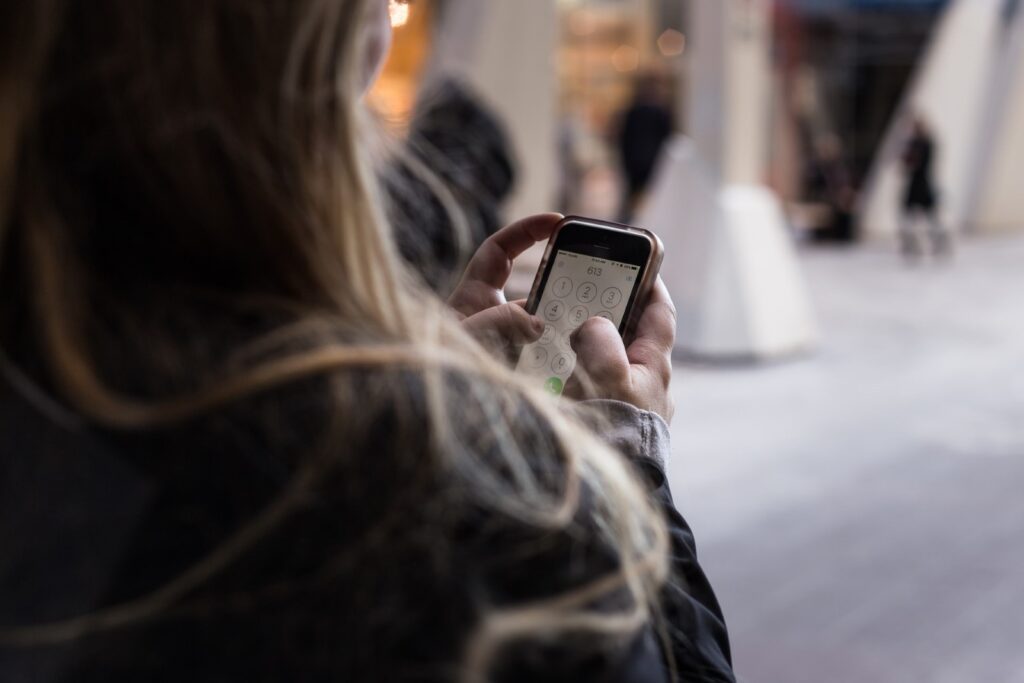 How do you spot a missed call phone scam?
If you've received a missed call from an unknown number, there are some things to consider before hitting redial. Here are some signs that suggest it's a missed call scam:
Premium rate numbers: these will typically start with 070, 076, 09, 118, 084, 087, 090, or 091. Premium numbers are often used by scammers as they cost considerably more to call than standard numbers. Before calling back a number, check it's not a premium number.
Silent calls: if your phone doesn't ring or the call screen doesn't show while you're using it, but you've received a missed call notification, there's a higher chance the call is from a scammer. The reason is that missed calls from scammers are automated and designed to cut out in under a second. This is to stop you from being able to answer it, in the hopes you'll call back. So, if your phone doesn't ring long or it cuts out quickly, it may be a dangerous call.
Geographical location: sometimes, your phone will show the geographical location that a call is coming from. Or, you can identify the location of the call by the first few digits, known as an area code. If you receive a call from somewhere you don't have any connection to, particularly overseas, it may be a sign it's a scam call. It's also worth being aware that Ofcom has reported many missed call scams coming from small or developing countries, including Botswana, Guinea, and Guyana. Calls from these countries will start with the dialling codes +267, +224, and +592, respectively.
No voicemail: genuine callers will usually either leave a voicemail or call again if they have tried to contact you without getting through. Missed calls with no other attempt to leave a message or contact you may suggest that it was left by a scammer.
What should you do if you receive a missed call from an unknown number?
If you receive a missed call from a number you don't recognise, think twice before immediately calling back. The last thing you need is to be hit with an unexpected charge on your phone bill for calling a premium number or end up being conned into giving away personal details to a scammer.
Before you call a number back, the best thing to do is to search for it using a reverse phone lookup. This will tell you whether the call has been flagged as being a scam number, the location of the call, and whether the number has been rated positive or negative. If the number is potentially dangerous, block it and report it. We'll explain how to do both.
How to protect yourself from phone scams
There are several things you can do to protect yourself from scam calls. These include:
Never give out personal details: there is no way to guarantee that the person calling you is who they say they are. For this reason, never share sensitive information over the phone, such as your bank account details, passwords, or PIN. Also, remember that genuine companies will never ask for this information.
Searching for numbers before calling them back: before you rush to hit redial on a missed call, use a phone number search tool like Who Called Me. This will help you identify whether a number has been flagged as potentially dangerous.
Don't answer calls from numbers you don't recognise: it's safer to ignore calls from numbers you don't recognise. If it turns out to be from a legitimate company or individual, they're likely to leave a voicemail or try calling back another time. It's also worth remembering that if you are left a message with a number to call back, it's best to check it's genuine.
Delete calls from suspicious numbers: if you identify a number as being potentially dangerous, delete it from your call history. This will prevent you from accidentally calling it by accident later down the line.
Block scam or spam numbers: it's also worth blocking scam or nuisance numbers so they can't contact you again in the future.
Bar calls to premium rate numbers: speak to your phone provider to see whether they can bar calls to premium numbers on your phone. This will ensure you don't end up being charged unexpectedly for calls to this type of number.
Turn on spam filters: most mobile phones have settings to allow you to turn on filters that block spam numbers and send unknown numbers to voicemail. This will reduce the number of potentially dangerous calls you receive.
Use a call-blocking app: download a call-blocking app on your mobile to get an added layer of protection from spam and scam calls. Popular ones include TrueCaller, RoboKiller, YouMail, and Hiya. 
Register with the Telephone Preference Service: this is a "Do Not Call" register that opts you out of nuisance and cold calls on either your mobile or landline phone. While it doesn't block scam calls, it will reduce the number of unknown calls you get. From here, you'll be able to better identify scam calls and nuisance calls from disreputable companies.
How to block a phone number
If you receive a call from a scam or nuisance phone number, it's safest to block it. So, here's how to block a phone number on iPhone, Android, and landline phones:
iPhone
Open the phone app and select "Recents".
In the recent calls list, find the number you want to block.
Tap the "i" symbol next to the number.
Scroll to the bottom of your screen, tap "Block this Caller" and then "Block Contact". This will stop calls and texts from this number.
Android
Open the phone app.
Tap the three dots icon followed by "Call history".
Locate the number you want to block and tap on it.
Tap "Block/report spam" and then "Block".
Landline
Blocking a number on a landline phone is slightly different. A lot of new home phones allow you to block numbers manually once you've received a call from them. Check your phone manual to find out whether this is possible.
Alternatively, you can speak to your phone provider to see what services they offer that can help you block certain numbers and types of calls. These may cost extra, but they're generally more effective at blocking spam and scam calls. The reason is that scammers and callers frequently change their numbers or hide their caller ID, so blocking specific numbers doesn't always stop them from being able to contact you.
How to report a phone scam
If you have received a scam call or have been the unfortunate victim of a phone scam, you should report it. Not only will this help you get support, but it will also raise awareness and hopefully prevent others from experiencing the same issue.
To report a phone scam, contact the relevant organisations from the list below:
The police: if you feel you are in danger or unsafe due to a scam phone call, ring 999 immediately to contact the police. Or, if you are aware of scammers operating in the local area, you can report it to the non-emergency police by ringing 101.
Action Fraud: victims of a phone scam should report it to Action Fraud either online or by calling 0300 123 2040. It's the UK's national centre for reporting fraud, available for those in England, Wales, and Northern Ireland. To report a scam in Scotland, call the non-emergency police on 101.
Your mobile network provider: you can report suspicious numbers to your phone provider so that they can be investigated and blocked if found to be nuisance or scam numbers. It's free and quick to do. Simply forward the number in a text to 7726.
Your bank: if you've been scammed into handing over money or bank details, contact your bank as soon as possible. They will be able to lock your account so money can't be withdrawn. They may also be able to assist with retrieving money lost to a scam. 
Summary
Missed call scams are a common tactic used by scammers to con unsuspecting individuals out of their hard-earned money. They rely on people redialling numbers if they've been left a missed call. But in doing so, the caller will usually be connected to a premium rate number that will end up costing them a hefty fee.
This is why calling back numbers you don't recognise is a risk. Before you redial a number, use a reverse phone lookup to see whether it has been identified as potentially dangerous or a premium number. If so, block the number and remove it from your phone's call history. You should also report scam numbers to your phone provider by forwarding them in a text to 7726 — this is so they can be investigated. And remember, it's always better to be cautious than end up out of pocket.