Launched in 2008, Spotify remains one of the best streaming platforms today. From blues to classical music, indie rock to crime podcasts, you have millions of content to listen to on Spotify.
However, if you to enjoy the maximum benefits that Spotify offers, then you will need to have Spotify Premium. The problem is, Spotify Premium is quite costly and requires regular subscriptions. And not everyone can afford them.
Fortunately, you can still get Spotify premium free and enjoy all the benefits that the platform offers. Read on to learn how you can get Spotify premium free forever.
Spotify Subscription Plans
Spotify offers 2 main subscription plans – Spotify free and Spotify Premium. Spotify Premium is available in 4 main packages – Individual, Duo, Family, and Student. Let's take a closer look at what each package offers:
Spotify Individual:
This plan goes for $9.99 per month. With this plan, you can listen and play to music anywhere, both online and offline. The first 3 months are free.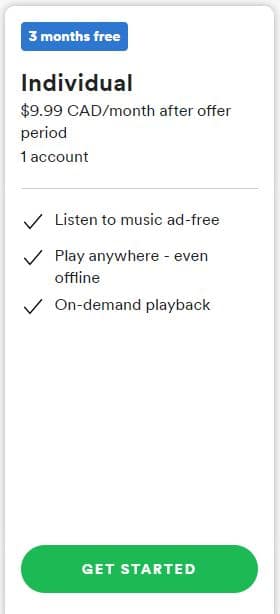 Spotify Duo:
Going for $12.99 per month, this plan features 2 premium accounts, a playlist for two, as well as ad-free music listening. This plan is great for a couple living together. The first month is free.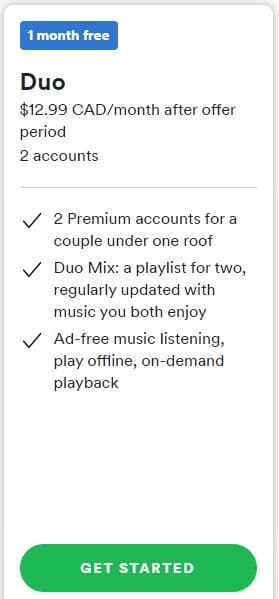 Spotify Family:
Going for $14.99 per month, this plan comes with 6 premium accounts for family members living in one house, a family playlist, ad-free music listening as well as Spotify Kids. It also offers the option of blocking explicit music. The first month is free.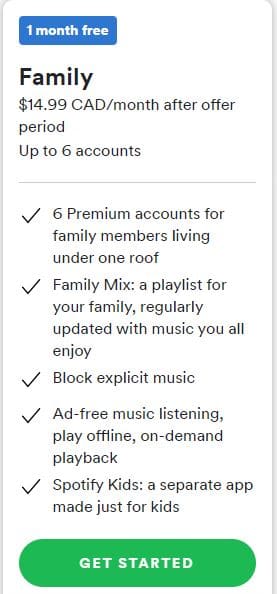 Spotify Student:
As the name suggests, this plan is specifically designed for students. It goes for $4.99 per month.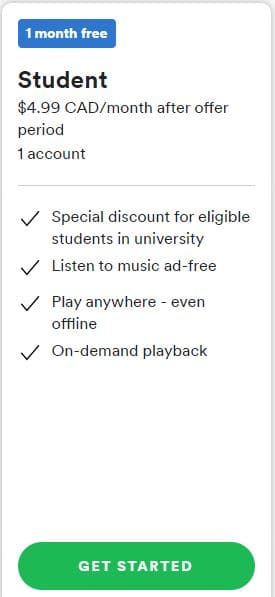 Advantages of Spotify Premium for Free
As you can see, Spotify Premium is quite expensive, regardless of the package that you choose. And while you can still listen to music through Spotify Free, the free version is quite limiting in terms of features. But with Spotify Premium, you get to enjoy the following benefits:
Ad-free music listening:
If you are streaming or listening to music through Spotify Free, you will be bombarded with pesky ads now and then. And we all know how annoying this can be.
Download songs and podcasts:
Spotify Premium gives you the option to download songs, which you can later listen to when you are offline.
Better audio quality:
With Spotify Premium, you can stream music and podcasts at 320kbit/s, up from 160kbit/s. So, if you are an audiophile, you will definitely enjoy the improved audio quality.
Extra features:
Spotify Premium also comes with additional features like shuffle, skip, repeat, and search, thus improving your overall listening experience.
Methods for getting Spotify Premium Free

Without a doubt, Spotify Premium offers great streaming and listening experience. However, not everyone can afford Spotify premium subscription plans. Also, some people may not be willing to part with money for such services. So, how do you enjoy Spotify Premium without paying the subscription fees? Well, here are some methods that you can use to get a free Spotify Premium account:
1. Use Spotify Mods:
If you are using an android-powered phone or tablet, you can enjoy Spotify Premium free, using a modded version of the Spotify app. First, you will have to download and install the Spotify Premium mod from a reliable source. Ensure you change your phone's settings to allow the installation of apps from unknown sources. Don't launch the app yet. Second, download and install a reliable VPN. You can choose any VPN of your choice. Third, launch the VPN and connect it to a country of your choice. Fourth, launch the Spotify Premium mod, create an account, and log in. Your Spotify Free account will automatically become Spotify Premium and you can now enjoy all the benefits that come with a premium account. Make sure you uninstall any Spotify app that you may have on your device. This method 100% works.
2. Try Free Spotify Premium Accounts:
If you search on Google "Free Spotify Premium accounts", you will come across hundreds of accounts. You can then try any of the provided usernames and passwords and you may be lucky to get a free premium account. Also, you can check websites like BugMeNot, Login2, Password-login.com, and Fakeaccount.net, just to name a few. You can try your luck with any of these websites and see which one works for you.
3. Free Spotify Gift Cards:
Spotify also offers gift cards to its premium users. You can then redeem the gift card via your Shopify account and enjoy an ad-free music experience. PointsPrizes is one of the best platforms when it comes to getting Spotify gift cards. You simply need to visit the website, find and complete as many tasks as possible. The tasks range from watching ads, surveys, and daily spins, among others. Once you've earned enough points, you can then redeem them for a free Spotify Premium gift card.
4. Use a friend's account:
If you've tried all the above methods but none seem to work for you, then you can ask a colleague or a friend to share their Spotify Premium logins. Spotify allows up to 6 people to share a single premium account. So, if your friend, family member or colleague has an eligible account, you can request them to share with you.
While any of the above methods can help you to get Spotify Premium free, installing a modded version of the Spotify Premium app remains the most effective and viable option. As long as you install the Spotify Premium mod from a reliable source, you will enjoy premium Spotify services anytime, anywhere. And you don't have to complete thousands of tasks to get a Spotify gift card or even beg your friends to share their logins with you.
Final Thoughts
Getting free Spotify Premium is not as hard as most people assume. Although there are a lot of Spotify promotion services going on, with a free account, you will have access to millions of tracks and podcasts, create your own playlists, enjoy ad-free music listening and continue listening to the music even after you've uninstalled Spotify. So, follow the above steps and get yourself free Spotify Premium. Happy listening!