KissAnime remains one of the most popular online streaming platforms for anime lovers. It features all genres in the anime niche, including adventure, action, comedy, fantasy, drama, supernatural, magic, romance, Sci-Fi, and horror, just to name a few. In short, it has almost everything that you would need when it comes to anime.
You may be probably asking yourself why you need KissAnime alternative websites. The reality is, that online streaming platforms get shut down every day, due to various reasons. And KissAnime may suffer the same fate. Furthermore, KissAnime has become quite unreliable these days, due to frequent technical glitches. So, it would be a great idea to have some KissAnime alternative websites, in case it gets shut down or becomes unstable.
But with hundreds of anime websites out there, how do you choose a safe website to watch anime torrents? Well, we've done the heavy lifting for you and prepared a list of the best KissAnime alternative websites. Here are the top KissAnime alternative websites 2021:
1. Crunchyroll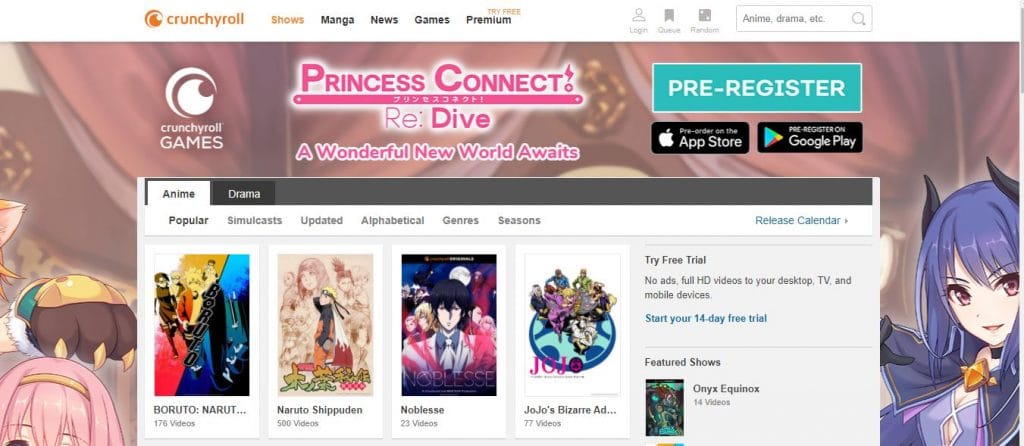 If you are looking for a great alternative to KissAnime, then you should check out Crynchyroll. One of the reasons why this website is so popular with anime lovers is because it provides English subtitles and English dubbed videos. Therefore, if you are a non-native English speaker, you can easily follow your favorite anime series on this platform.
It's important to note that you will be required to create an account for you to access the content. Once you've signed up, you can then access the videos either using a free plan or premium plan. For the free plan, you can only access the content in 480p. So, if you want better quality videos, you will have to join the premium plans. For the premium plans, you can choose from Fan at $7.99 per month, Mega Fan at $9.99 per month, and Ultimate Fan at $14.99 per month. All the premium plans come with a 14-day free trial period, which gives you enough time to explore their features and benefits.
Current URL:https://www.crunchyroll.com/
2. 9Anime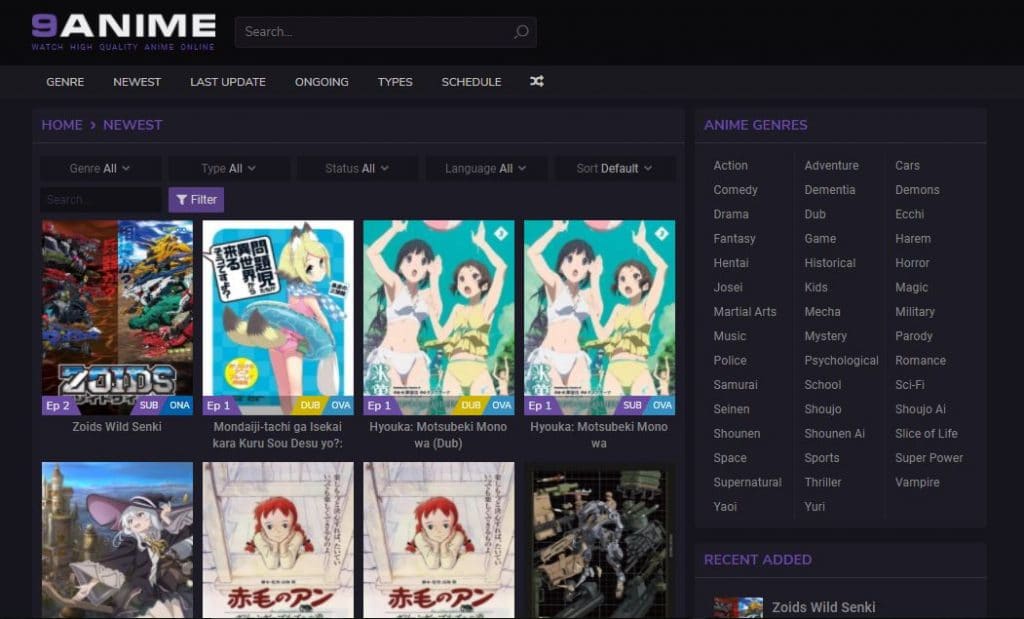 9Anime is another great streaming platform for anime lovers. Most anime lovers opt for this site instead of the other available options due to its high-speed streaming and its clean user interface. Apart from watching anime recordings, you can also download them onto your device and watch them later.
Unlike Crunchyroll, you don't have to pay anything to access the content. And you can watch most of the anime videos in HD. 9Anime also provides you a list of anime videos that are currently popular or trending. And if you want to watch the older shows, then you just need to filter them accordingly. Also, 9Anime keeps you updated on when new episodes will be released. However, some of the videos may not be subbed and dubbed.
Current URL: https://ww.9animes.org/
Status: Online
3. AnimeFrenzy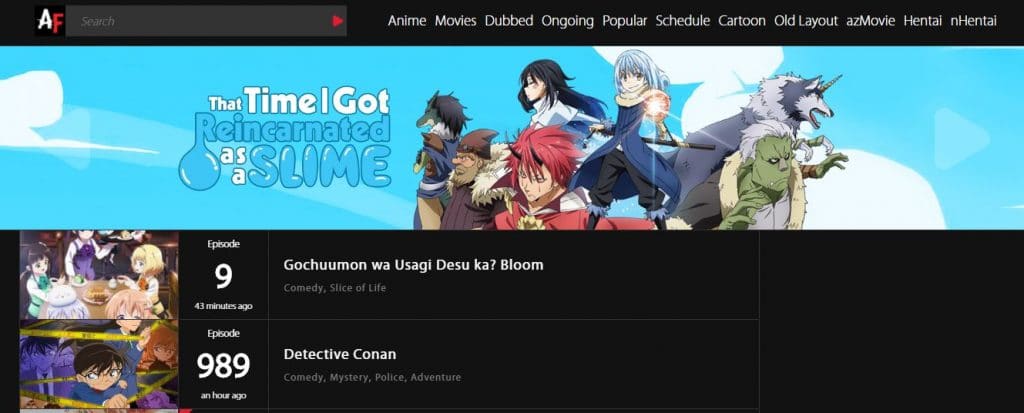 As the name suggests, AnimeFrenzy features a vast collection of anime series and videos, where you can effortlessly stream and watch your favorite shows. Furthermore, their database is updated every day, meaning you can never run out of things to watch on this platform.
Its user interface is user-friendly and neat, making it easy to find whatever you are looking for. Also, the content is well organized to ensure faster sorting. AnimeFrenzy also comes with a "Random" button, designed for visitors who don't know what to watch. When you click this button, AnimeFrenzy will suggest some content for you. You can also chat with other anime lovers when you are online, who may be watching the same series as you. With its vast selection of anime and user-friendly interface, AnimeFrenzy is just what you need if you are looking for a KissAnime alternative.
Current URL: https://animefrenzy.org/
Status: Online
4. KimCartoon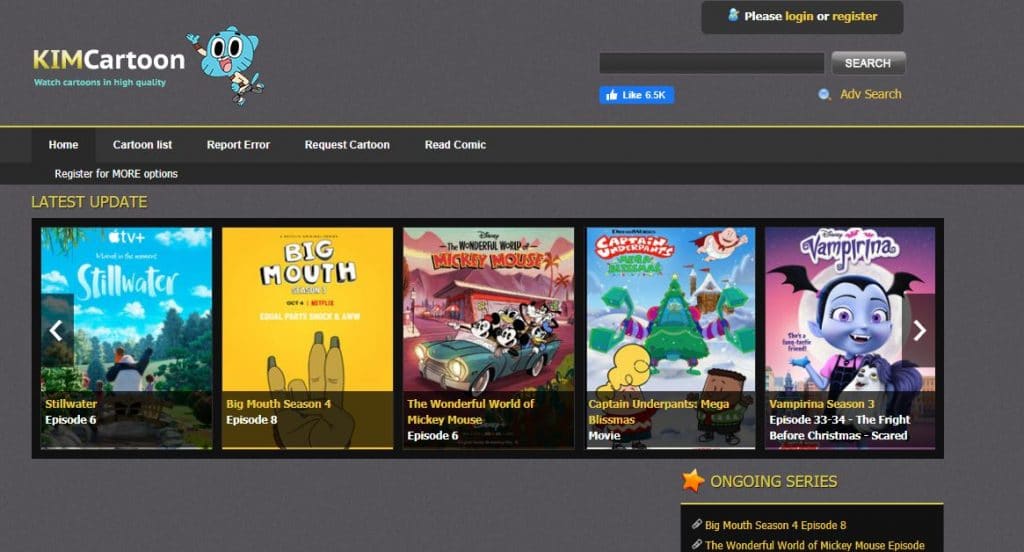 As much as KimCartoon may not be as old as other websites on this list, their collection is equally exceptional, making it a popular choice for most animation fans and cartoon lovers.
The entire website is well-structured and user-friendly, making it easy for users to access high-quality animation movies and cartoons. You can access the content on TV, mobile device and PC, among others.
Each cartoon on the site features its own thumbnail, the genre as well as other important details. Content sorting can be done using alphabetical order, or release date, among other filters. You can also request your favorite cartoon in case you don't find it on the website.
Current URL: https://kimcartoon.to/
Status: Online
5. MyAnimeList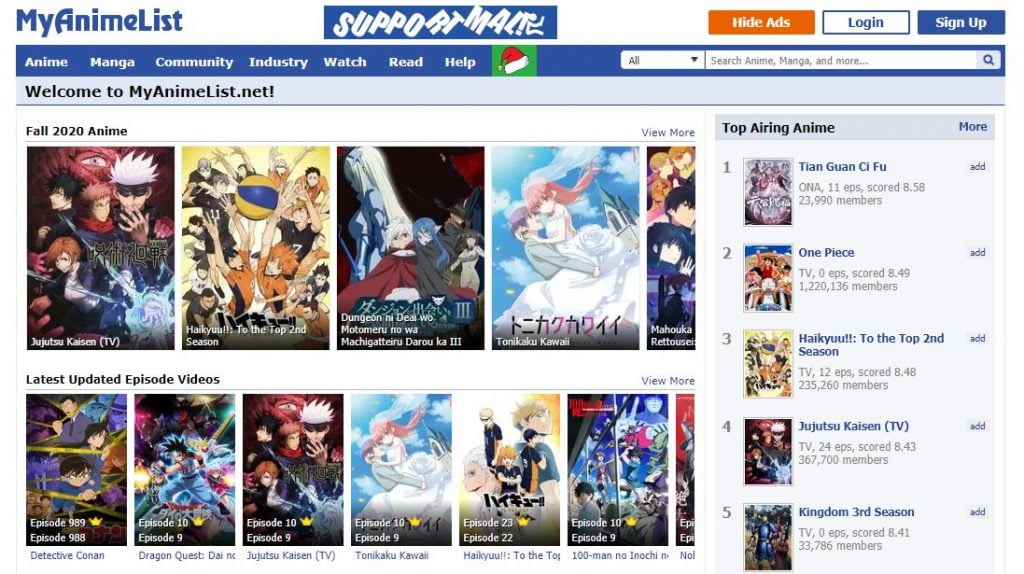 If you are looking for a KissAnime alternative website that is easy to use, has fast loading speeds, offers great video quality and is reliable round the clock, then you should check out MyAnimeList.
It's loved by anime enthusiasts throughout the globe due to its fast and smooth streaming experience while consuming low bandwidth. So, if you want to access high-quality anime videos without spending too much on data, then MyAnimeList is your best choice.
The quality of the videos on the platform ranges from 340p and 1080p. Hence, you can choose your preferred quality based on connection speed or personal preferences. MyAnimeList also offers a wide range of English dubbed and subbed versions of various anime movies and series.
Current URL: https://myanimelist.net/
Status: Online
6. AnimeLab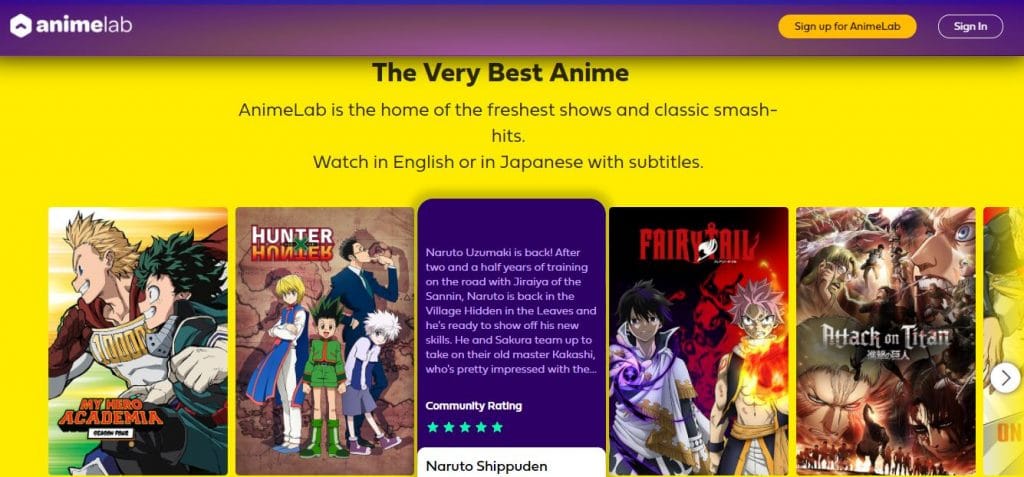 Accessible via Android, iOS, Apple TV, Chromecast and PlayStation Xbox, AnimeLab features an extensive selection of anime shows and movies, drawn from different genres. In fact, they claim that their anime collection is the largest, making it the ideal platform for catching up with your favorite anime.
What separates them from other platforms is how they display their content. When you hover over any anime thumbnail, you will see details about the anime such as its name, number of available episodes, language options as well as viewer rating, among other details.
However, it's important to note that AnimeLab is only available in New Zealand and Australia. So, if you are outside these two countries or it doesn't work in your region, then you will have to use a VPN.
Current URL: https://www.animelab.com/
Status: Online
7. AniWatcher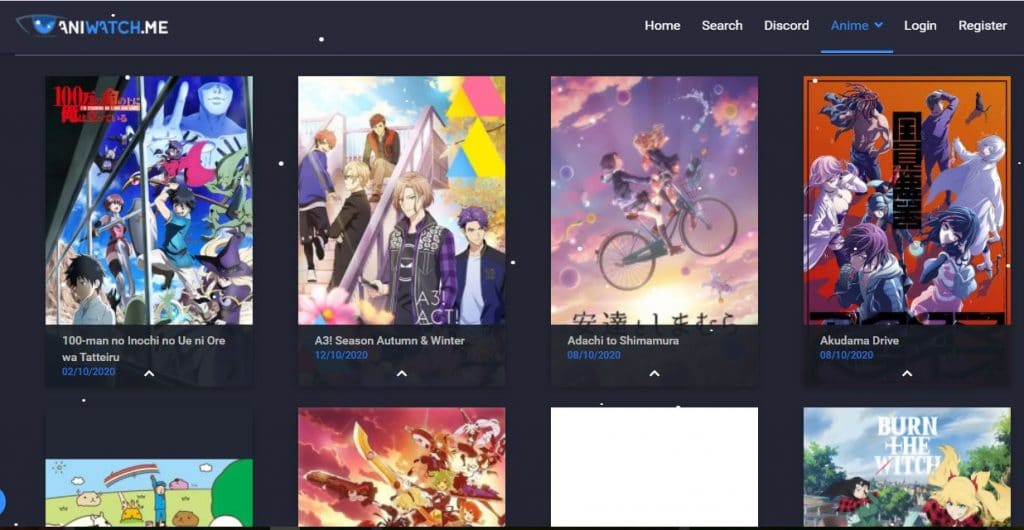 AniWatcher is probably the easiest anime website to navigate out there. When you visit the homepage, you will see a list of some of the most popular anime series and movies, as well as details about them.
AniWatcher will also provide you with a list of all the ongoing and available anime series, as well as the latest movies and episodes. They also provide recommendations, in case you are not sure what to watch.
Their list is continuously updated, meaning you can never run out of things to watch on this website. Also, they offer both subbed and dubbed anime, making it easy for non-native speakers to follow anime movies and shows. Unlike other anime streaming websites, you don't have to create an account or provide personal information to access the content.
Current URL: https://aniwatch.me/
Status: Online
8. Anime-Planet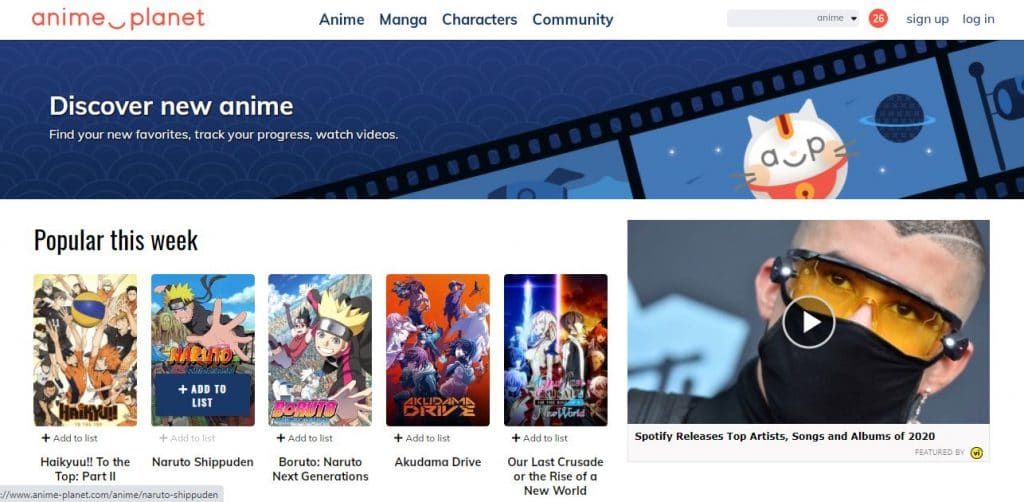 Anime-Planet is another great alternative to KissAnime for those who love watching cartoons and animations. With a collection of over 45,000 episodes, your options are almost endless when it comes to watching anime.
Users on this platform can access all types of anime and manga, thanks to their extensive collection. You will also see reviews of the different anime movies and shows, left by fans, thus making it easier for you to choose what to watch. Their interface is clean and modern. Overall, the website provides a great viewing experience on a wide range of devices.
Current URL: https://www.anime-planet.com/
Status: Online
9. Chia-Anime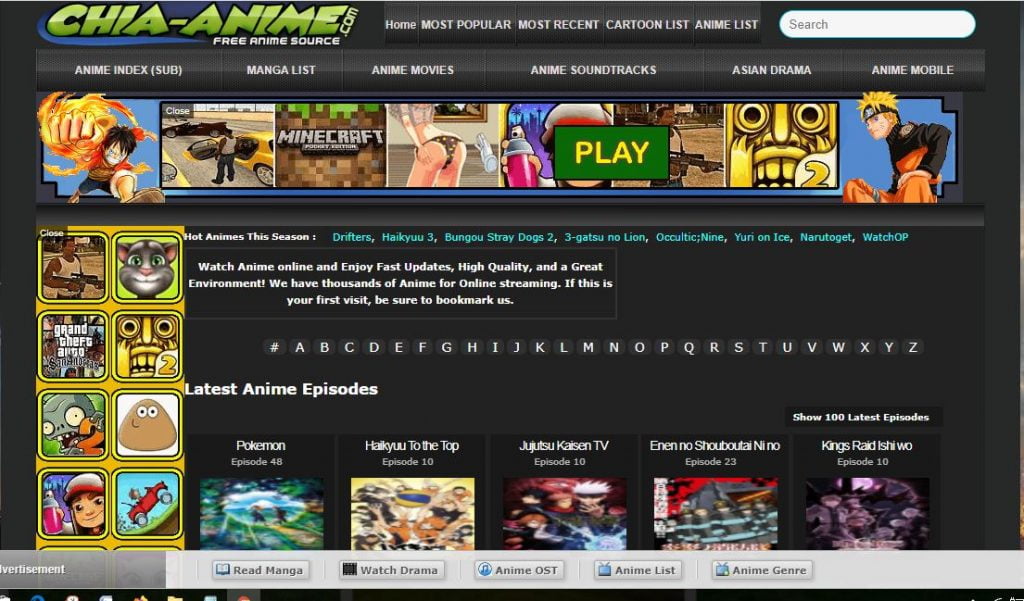 If you are looking for a KissAnime alternative website where you can catch up with the latest anime shows and movies, then you should check out Chia-Anime. This website offers great and enjoyable streaming, watching and browsing experience.
On Chia-Anime, you can watch popular anime shows like One-Piece, Dragon Ball, One-Piece, Kokora, and Hero Academia, among others. The navigation is easy and fast since the videos have already been categorized. You can also download the videos and watch them later when you are offline.
Current URL: http://chia-anime-tv.303.si/
Status:Online
10. Funimation

Funimation is an easy-to-use anime alternative that provides a wide range of anime movies and shows. If you don't like watching foreign anime shows using subtitles, then Funimation is where you should be. They offer English-dubbed foreign shows, making it easier to watch and follow the videos.
Current URL: https://www.funimation.com/
Status:Online
Why Use a VPN When Watching Anime Online
Whether you are an anime addict or you only watch a few videos in a week, it's highly advisable to use a VPN whenever you are visiting these sites. And there are several benefits of using a VPN.
First, a VPN will cloak your IP address, making it impossible for unscrupulous individuals to steal your data. Second, a VPN will hide your IP address from government agencies, who are always monitoring our online activities. Third, a VPN will help to protect you against legal issues, especially when streaming or downloading copyrighted content illegally. Another benefit of using a VPN is that it will help you to access anime content that may be blocked in certain geographical locations.
FAQs about Watching Anime
1. What devices can you use to watch anime?
You can watch anime on a wide range of devices like consoles, smart TVs, tablets, smartphones, and PCs.
2. Do you need a VPN to access these websites?
Yes. It's highly advisable to use a VPN when using free anime sites. Using a VPN will help to hide your IP address from hackers, governments, and others who may be tracking your activities.
3. What features should a top anime website have?
A large collection of anime movies and shows, fast and free streaming and downloading, both dubbed and subbed versions. A top KissAnime alternative website should also have great video quality. Also, they should update the content regularly.
4. Why is KissAnime banned in some countries?
KissAnime is banned in some countries due to copyright and piracy issues.
5. What's the difference between Manga and anime?
In terms of content, most anime is based on graphic novels. Manga, on the other hand, is usually based on fictional or real-life stories.
6. What devices can you use to watch anime online?
You can stream, download, or watch anime online using any device that has internet connectivity. So, any smart TV, smartphone, tablet, streaming device, or PC should be enough.
Final Thoughts
As you can see, you have numerous options when it comes to KissAnime alternatives. So, if KissAnime doesn't work in your location or it has other issues, then you just need to choose any of the above websites and enjoy your favorite anime.