There are games that we love to play for their graphics and the thrill of the overarching storyline. But, there are other games like solitaire that we might not play for their graphics or story but simply because it's fun and takes your mind off work and relaxes. Google Solitaire is one such game that is available directly on the web search itself.
Yes, you no longer need to download a separate application on your smartphone to play a game of Solitaire. Just visit google and start playing. But how do you do it? How do you play the game? Are there any other alternatives to the game? What do you need to play Google Solitaire? All your questions will be answered via this comprehensive article on Google Solitaire. Once you read this, we are sure you'll be jumping onto Google Solitaire will be your best pass time game.
What is Google Solitaire?
There are simple yet engaging games like solitaire and tick tack toe that demand very less graphics and provide one of the best means for a pass time. Solitaire is one game that every millennial relates to. Going back just a decade or so, there were only a few games on our PC and computer systems that we could play. One of these was Solitaire. Every 1990s adults and children remember solitaire.
Google understands that in order to engage its website visitors it needs something different and must add games too. After all, it's one of the fastest-growing industries in the world. So, looking at this opportunity and considering the fact that games like Solitaire don't demand a high graphic value, Google has made Google Solitaire which is a free-to-play solitaire game available on its platform.
Couple of things to remember about Google Solitaire
It's free to play and completely web-based. In other words, you can play Google Solitaire from anywhere and anytime.
You don't need a very high-speed connection to play the game. If you can surf the web using your internet connection, you can play Google Solitaire without any hindrance. Additionally, there are no lags and page load issues so, you enjoy an error-free gaming experience.
The basic premise of the game is very similar to any other Solitaire game and adapting to it takes little to no time.
A game like Solitaire can go on for a few minutes or hours. So, you can play the game at your own pace. The best way to do this is to have a separate tab where you only have the game open.
You don't need a dedicated browser like Chrome to play the game. As it is not a browser-based, but rather a web-based game, you can use any browser to play the game.
How To Find Google Solitaire Online?
If you have played solitaire before on any other platform, you will quickly be able to get your hands on Google Solitaire. That being said, how do you find Google Solitaire? Well, here are some quick steps that you can follow to start playing Google Solitaire.
Before we move further, remember, you need a good internet connection and any browser to play this game.
Start by opening up a browser on your PC, tablet or smartphone device. For example, you can open Safari on your iPhone and Chrome or Mozilla Firefox on your Microsoft or Google device. (It's important to remember that it doesn't matter which browser you use).
Now, either you can type in the search term GOOGLE SOLITAIRE in the search box or go on to Google and type in the same search term in Google's search box.
Several reach results will pop in as the page will load. However, if you have made your search on Google, you'll see the very first result titled SOLITAIRE, followed by a picture of cards on a green background and a play button in blue.
Click on the blue play button and the game will load in a matter of seconds if not sooner.
How To Play Google Solitaire?
As discussed, playing Google Solitaire is as similar and simple as playing any other game of Solitaire on any other application. Here are some initial steps you will come across after you have clicked on the play button and the game has loaded.
The first thing you'll be asked is if you want to play in EASY or HARD mode.
Depending on your choice the game will be designed. If you are a first-time player, go with the EASY mode. This will allow you to start comfortably.
Once you choose which mode to play in, the initial cards will unravel in front of you and the game will start.
You'll see that as soon as the game starts the timer in the top centre also starts. This timer goes on until you either close the tab or the game. In other words, even if you are doing something on your phone and not playing the game, the timer will go on.
Right next to the timer, you'll see a scorecard. This will tell your score as you progress in the game. In the bottom right and left, you'll see UNDO and NEW options. The Undo option will undo your last moves. The New option, on the other hand, will ask you to start fresh right from the first step (of choosing EASY OR HARD).
There is also the volume option, in case you don't want the card to make that noise.
You can quickly stop the game by clicking on the X in the top right corner, right next to the volume button.
Clicking on the X button will take you back to the Google search results page.
Other Online Games by Google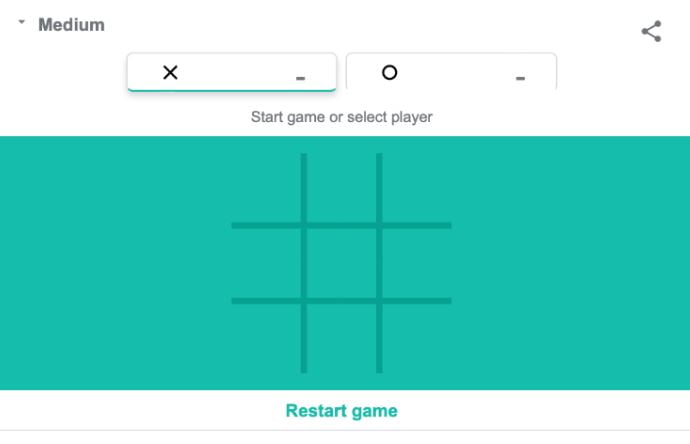 Yes, Google Solitaire may not be everyone's cup of tea. That's okay. Even Google understands that and hence, it has a barrage of other engaging games that will make your time worth it.
Some of the most prominent Games there are Snakes, Pac-Man, Memory Games and Art Games, among others. Every game can be categorized into their fun like Pac-Man and Snake or games that challenge your cognitive function like Quizzes and Memory Games.  
There are two ways you can access these games. One, you can find them by clicking on the white coloured button right below the play button when you search for Solitaire. You can also make these searches to find the games on google and play them:
Pac-Man Google Doodle for Pac Man
Google Snakes to play snakes
Google Minesweeper to play minesweeper
google Tic-Tac-Toe to play tic tac toe
Google Solitaire is one of those games that take you back in memory lane. It reminds you of the simple times and simple games that gave us a little bit of a breather between our work. You can enjoy the same experience with the sounds and the gameplay, only this time you don't have to download an app for it. Just type in Google Solitaire and that's about it. You can start playing the game.
FAQ about Google Solitaire
Is Google Solitaire free to play?
Yes, it is free to play and you don't have to pay any kind of fee or download any kind of application to play the game.
Can I play Google Solitaire on my phone?
Yes, it is a web-based cross-device game which you can play on your PC, tablet or smartphone. All you need is access to the internet and a browser that opens Google.
How do I play the Google Solitaire game?
To play this game, open a web browser and go to the Google search engine. Once you are on the Google search page, type GOOGLE SOLITAIRE and press enter. You'll see the first option titled Solitaire and a play button in blue colour. Press the button to start playing the game.
What Are Similar Games To Google Solitaire?
There are several engaging games that take the best parts of Solitaire and add their own spin to the classic card game. Freecell Solitaire is perhaps one of the most popular and entertaining, the goal of the game is to move all the cards from the playing area to the foundation piles in ascending order, separated by suit. The game allows the player to move only one card at a time, but empty cell spaces can be used to temporarily store cards. The FreeCell version of Solitaire comes with hints, customizable decks, and strategy guides.
One of the most widespread solitaire games is Spider Solitaire. Unlike other kinds of Endurance card games, you can play this game with two decks of cards. Gamers can also select the level of difficulty depending on how many suits they want to use. To help you in difficult situations when you feel trapped, this game provides unlimited hints and undo's.
Is it possible for me to win Google Solitaire?
Yes, you can win Google Solitaire. All you need is practice. You can start playing in easy mode and then move on to hard mode once you have won the game a couple of times. Enjoy the gameplay and keep playing to get better at it and win.
Do you need to be a pro to play Google Solitaire?
No. You don't need to be a pro solitaire player to play this game. All you need is a stable internet connection and a smartphone, PC or tablet to start playing the game, online in no time.
Now, it's time for you to follow the steps and start playing the game. All the best!